Dawn Kane for Greensboro NEWS AND RECORD
GREENSBORO — Howard Eisen arrived at Guilford College's Dana Auditorium nearly an hour before the first notes sounded.
He looked forward to seeing Eastern Music Festival professional faculty perform EMF's first chamber concert of the 2021 summer season.
It marked the classical music series' first in-person concert in 23 months, after the 2020 in-person season was canceled because of the COVID-19 pandemic.
With more people receiving vaccinations against the coronavirus and government restrictions easing, some indoor concert halls, movie theaters, stages and arenas have begun to welcome back live audiences, with restrictions.
"It's a joy to have this back," Eisen said through his dark red mask. "I love music, and this makes my year."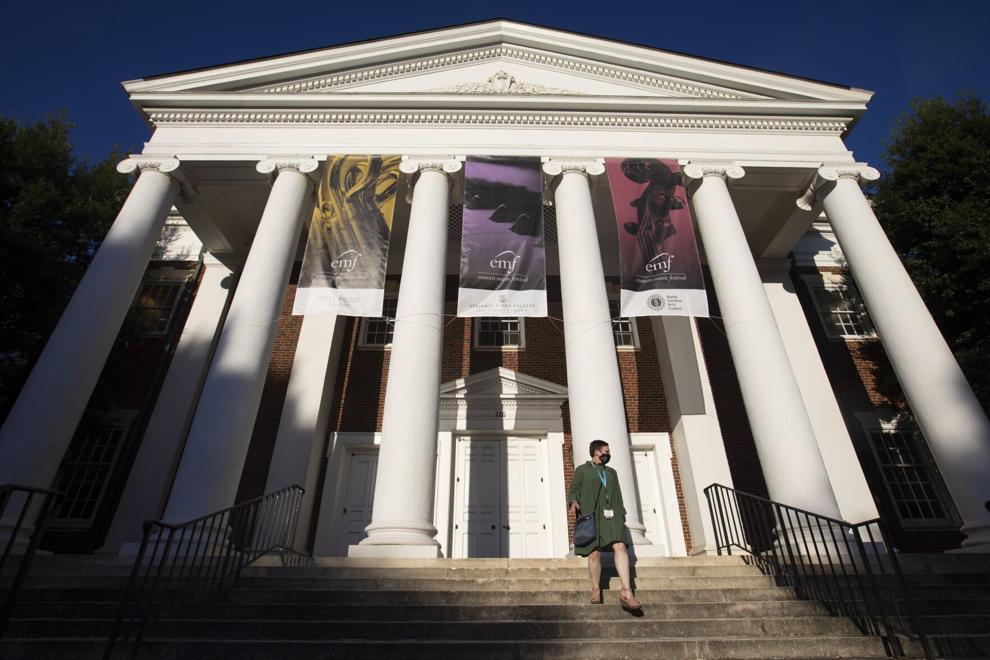 Kelly Swindell descends the front steps of Dana Auditorium during the Eastern Music Festival in Greensboro on June 29.
KENNETH FERRIERA, NEWS & RECORD
Through July 31, EMF returns to Guilford College for its 60th anniversary season. It will provide classical music instruction by professionals to 192 young musicians from around the country, and concerts for the public daily except Mondays.
Last summer, EMF offered some online replacement programming.
This year, the festival is live but scaled back, with fewer students and faculty and smaller audiences.
Nonetheless, there still will be more than 35 live performances by one of the first Triad organizations to return to live indoor programming.
Sheldon "Shelly" Morgenstern founded what became EMF, where he spent 36 years as its music director and conductor.
It's now a nonprofit organization based in Greensboro, with Chris Williams as its executive director and Gerard Schwarz as its music director.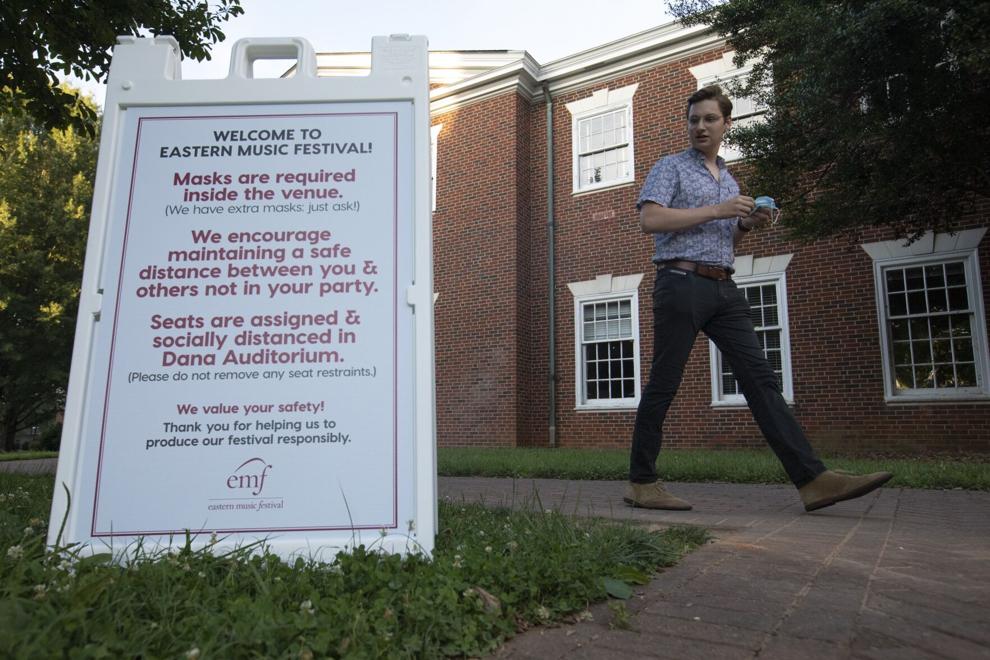 Except for 2020, Eisen has attended EMF each summer since 1986.
Despite the continuing pandemic, he said, he wasn't nervous about being around other people. He was among the first audience members to arrive at Dana.
"I've been a recluse for two years," Eisen said. "It's a joy to see human beings again in the flesh."
EMF has taken precautions.
Its students, faculty and staff have been vaccinated.
EMF organizers have limited attendance to about 50% per show in 1,000-seat Dana Auditorium.
Seats have been spaced, in groups of two, three and four. Others have been roped off.
EMF had planned to require audience members to wear masks during concerts. But just before the first concert last week, the festival changed its rule to allow vaccinated audience members to remove masks while seated.
Audience applause greeted Williams' pre-concert mask announcement from the Dana stage.
"It's been a tough, long 18 months for many of us," Williams said. "This music we're going to present tonight and throughout the summer is going to help."
The audience applauded pianist Marika Bournaki and flutist Les Roettges when they walked onstage to perform the first piece in the first concert, Robert Schumann's "Three Romances for Flute and Piano."
The chamber concert attracted more than 200 people, a little higher than normal for a Tuesday chamber concert, said Mary Reading, assistant box office manager.
Saturday night's faculty orchestra concert attracted an audience that filled three-quarters of available seats, considering Dana's 50% capacity, said Kelly Swindell, media and communications director.
The appreciative audience responded with standing ovations.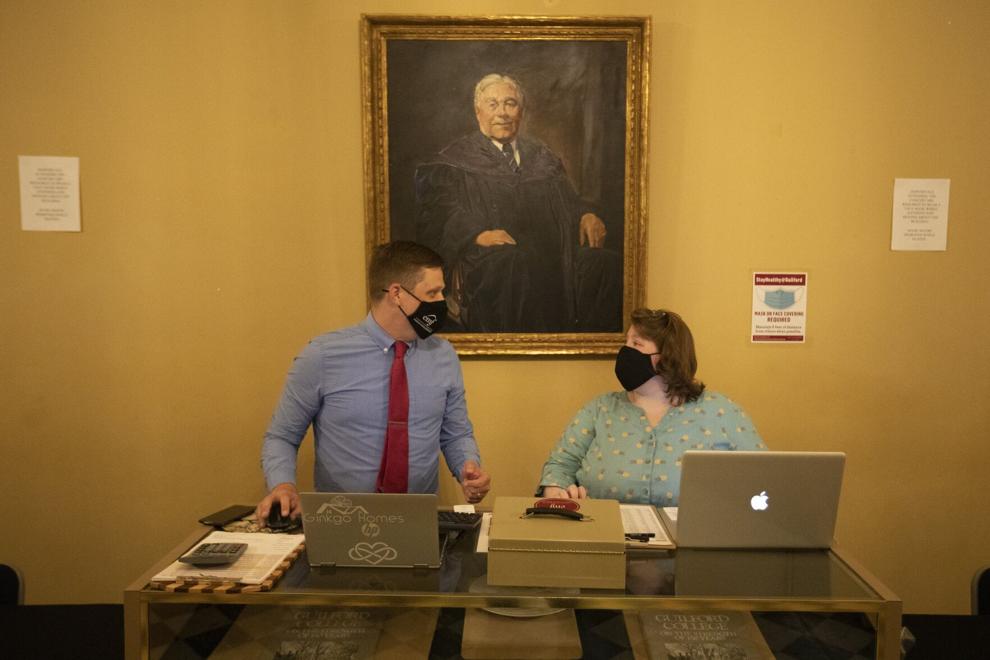 Mary Reading and Justin Nichols work at the front entrance during a live performance for the Eastern Music Festival at Dana Auditorium in Greensboro on June 29.
KENNETH FERRIERA, NEWS & RECORD
Before the concert, EMF student ushers got their instructions from Box Office Manager Justin Nichols. Nichols brings years of experience at EMF and Triad Stage.
His aim for the audience? "Make them happy to be here," he said.
Melanie Watson, front of house manager since 2015, had a similar goal: "To bring an audience in and share our love of music with the community."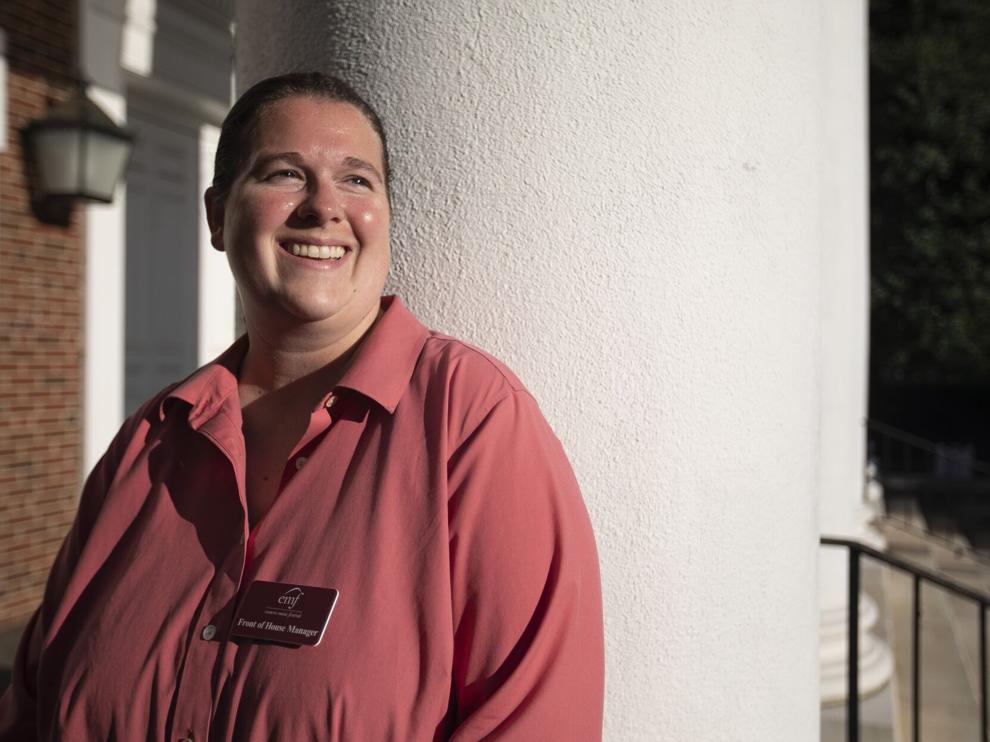 Tickets have been sold online this year. Nichols showed ushers how to use a phone app to scan tickets on audience members' phones.
"Reassure people if they show up without tickets," Nichols said. "If they think they bought them, they most likely have. If you can't find them in the app, send them over here."
Outside, more audience members and students arrived for the concert.
Frances and Jim Cooper were among them. Frances Cooper said she looked forward to "hearing some good music and being with other people."
"I like being with him," Cooper said of her husband of 60 years. "But sometimes you need a little activity."
Artist Beatrice Schall had returned from two weeks in New Mexico the night before. Exhaustion didn't stop her from attending.
"I wouldn't miss an EMF concert, especially the first one," Schall said.
Local flutist Rebecca Cochran was there, volunteering on the team publicizing EMF's 60th anniversary season.
"I have a lot of hope that people are going to come out, especially once they see some media attention that the first couple concerts did happen, and it's safe to go into Dana Auditorium," Cochran said.
"I'm hoping as the season wears on that the crowds will get bigger, obviously just to 50 percent capacity," Cochran said. "Even people who haven't been to EMF in 15 or 20 years — I'm coaxing them back. This is a gem."